From what are little lions made of?
Puppies 2010:
We had four lovely puppies out of Chic Choix Markey Lifar & Melfield Sam´s Angel !!
---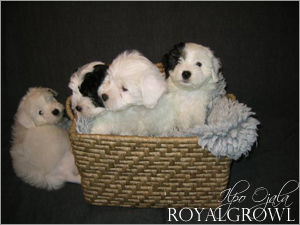 First löwchen litter in Royalgrowl kennel was born in 13th of December 2003. Sired by Torsti and dam is Elle.
There were four puppies:
Royalgrowl Attractive Guy "Veikko",
Royalgrowl Dollar's Guy "Voitto",
Royalgrowl So So Tuff "Toivo"
Royalgrowl Thank's to Elle "Ada"
Second litter we had 2009, and from this litter we got two handsome boys. Sired by Pertti and dam is Krisse.
These puppies are:
Royalgrowl Angel Postcode "Eewert"
Royalgrowl Angel Signature "Rubert"
Third litter was a repeat mating, Pertti & Krisse, giving us 4 lovely puppies, one boy and three girls.
Royalgrowl Luis Vuiton "Louis"
Royalgrowl Paris Hilton "Paris"
Royalgrowl Coco Chanel "Rachel"
Royalgrowl Vera Wang "Vanessa"